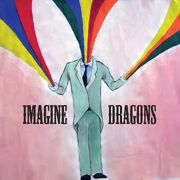 The Speak To Me EP is the first released disc under the name "Imagine Dragons." The members of the band then were completely different from today (other than Dan Reynolds), as was the style of music. This EP was released around 2008, and was sold by the band members themselves. Today, Dan Reynolds does not consider this EP part of the band's discography.
The band that played this is considered completely different from the one who played later.
The members of the original Imagine Dragons were as follows:
Dan Reynolds (Lead singer, only current member from this time) Aurora Florence (Violin/Piano, some vocals in various songs) Andrew Beck (Lead guitar) Dave Lemke (Bass Guitar) Andrew Tolman (Drums)
There were five songs feautured on this EP.
Pistol Whip: Pistol whip is a song that is 3:43 long.
Living Musical: The longest song on this EP, Living Musical is a song that goes for 4:46. It plays into the idea that many fans have gotten for this EP--that it could easily be disguised as a movie or theater soundtrack.
The Pit: This song spans for an entire 3:47.
Speak To Me: The title song of the EP shows off Aurora's vocals, as she sings her part in the second verse. This song plays for 3:26.
Boots: The final song of this EP shares some similarities with the song "Speak To Me," as Dan can be heard spelling out the word "J-U-D-G-E-M-E-N-T." The length of this song is 3:33.
Ad blocker interference detected!
Wikia is a free-to-use site that makes money from advertising. We have a modified experience for viewers using ad blockers

Wikia is not accessible if you've made further modifications. Remove the custom ad blocker rule(s) and the page will load as expected.